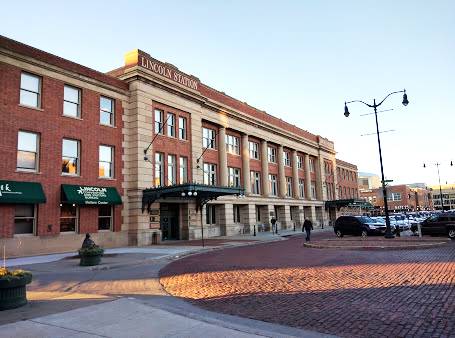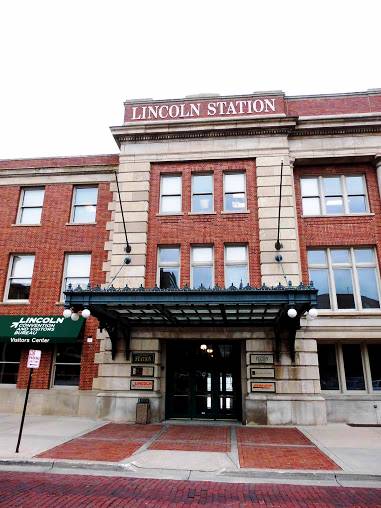 The former Chicago Burlington and Quincy train depot at 7 th and "P" originally constructed in 1927, is the prominent anchor of Lincoln's Historic Haymarket district. The Burlington Northern and Santa Fe Railroad still occupies a major portion of this property, as well as Lincoln's AMTRAK passenger station.
Our purchase, development and renovation of Lincoln Station in 1989 introduced non railroad uses for the first time. Currently, several fine business operations occupy the street level of the building including Burlington Arcade Antiques, jtk's a premier dining establishment, featuring steaks, seafood selections and nationally renowned wine bar; the Lincoln Visitor's Center which provides tourists and other visitors with information about the community; and the beautifully restored 2 story high passenger waiting room is now one of the most popular locations in the city for wedding receptions, parties and other gatherings of up to 800 people, known as The Great Hall.
A huge brick mural, Iron Horse Legacy, located in Iron Horse Park on the north end of the development is a favorite stop among visitors to our city. Stop down any Saturday morning from April to September for the Farmer's market held in front of Lincoln Station on 7th street, which is the largest Farmer's Market in the midwest.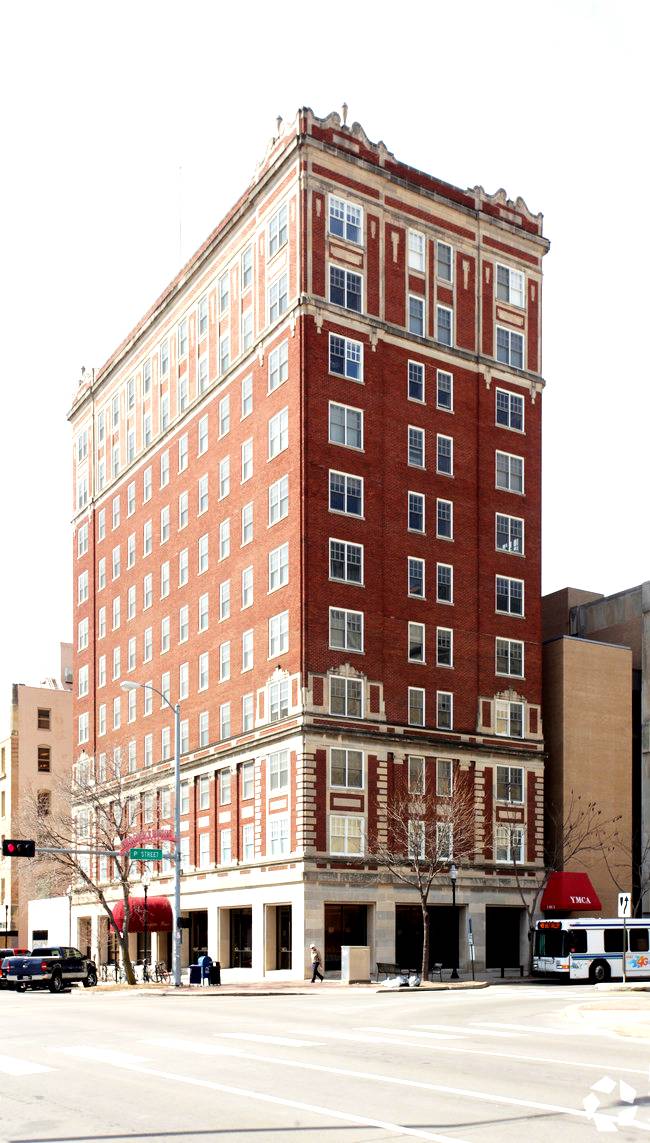 Georgian Place
139 North 11th Street
This certified historic renovation of the former Capital Hotel was completed in 1983, when the building was also listed on the National Register of Historic Places. The Arter Group was called by the YMCA in 1982 to examine options, and to create possible solutions, in response to growing losses from their hotel operation. It was eventually decided to create a condominium property, and for the Y to retain portions of the first 2 floors in connection with their adjacent fitness facilities, and the Arter Group purchased the upper 9 floors. All of the space on the upper floors was gutted, except for the structural elements, and completely renovated in accordance with historical guidelines, creating high quality "new" housing in downtown Lincoln for the first time in over a decade. Complete new elevators and mechanical and electrical systems were installed, with high efficiency water source electric heat pumps, the monthly electrical bills for these condominiums remain very low year round.
Residents are also invited to become members of the YMCA, with convenient, direct access through a private keyed entrance (from the "secure" inner Georgian Place lobby), to use the YMCA "club" facilities when they are open. Ready for a morning swim, or maybe a workout on their complete line of fitness equipment? Condominiums may be leased or purchased.
For further information on leasing, or information on units available for purchase please contact us. Our friendly staff will promptly respond to your questions, and also arrange a private showing at your convenience.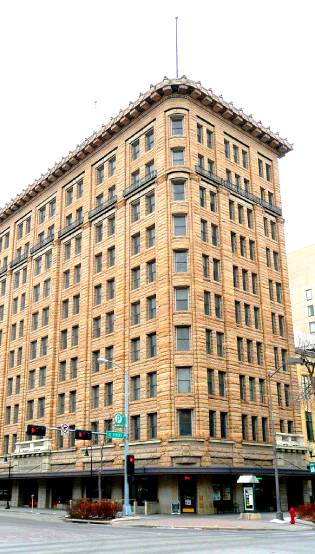 Center Stone
100 North 12th Street
Another of our certified historic projects, this renovation of the former Anderson Building was completed in 1986. This building was previously listed on the National Register of Historic Places, and originally, was known as the Burr Block, built as a 5 story building in 1900. This structure was totally rebuilt in 1922 by the Security Mutual Life Insurance Company, when they completely disassembled the stone, vertically one half at a time, and reassembled and added additional matching stone and created their "new" 11 story office headquarters.
The Arter Group purchased the building in 1985, and planned a mixed use project on the basis that both office users and residents alike would enjoy the direct skywalk connection to parking facilities in the adjacent Rampark garage. Based on the overwhelming response to the "new" Georgian Place condominiums since it was first occupied in 1984, we decided to create luxury a condominium property, with a landscaped deck and outdoor living space on the rooftop, again involving the members of our "Group" of companies in design and construction of this exciting project. All of the space in the building was gutted, again except for the structural elements, and completely renovated in accordance with historical guidelines, creating luxury "new" housing units on floors 3 and 4th, and also on floors 6 through 11 with "Class A" offices on the remaining floors. In addition to the a common area rooftop garden, complete with barbecue grills, a private terrace is adjacent to the penthouse suite on the top floor. Several other CenterStone condominiums have their own private outdoor patio area, and all of them offer private laundry facilities within the apartments. Don't forget the private skyway over to Rampark, where we are able to arrange parking by the month for your convenience.
Many of these condominiums were professionally decorated for a "Showcase" fundraising event (and featured in a national magazine display), and offer wood floors, and other design amenities.
Complete new elevators and mechanical and electrical systems were again installed, with high efficiency water source electric heat pumps, the monthly electrical bills for these condominiums are extremely low making CenterStone an affordable luxury living option. Condominiums may be leased or purchased.
For further information on leasing or information on units available for purchase please contact us. Our friendly associates will promptly respond to your questions, and also arrange a private showing at your convenience.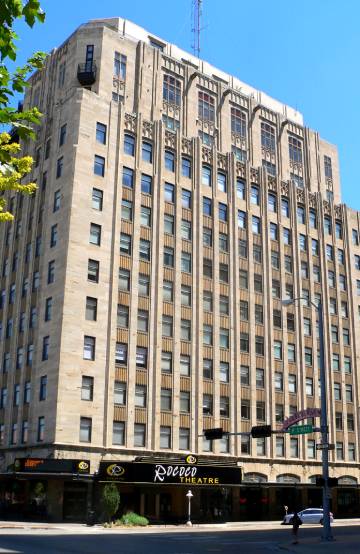 University Towers
128 North 13th Street
This renovation of the former Stuart Building was commenced by Larry Price in 1988. The building was listed on the National Register of Historic Places in 2003, and still retains many of the design features that once made this building one of the most prestigious office locations in the Midwest. To recall that it was built in 1929 using a one paragraph contract between James Stuart Sr. and Carl Olson makes one smile, in respect to them.
This renovated structure also provides convenient parking next door, and contains 66 luxury, one and two bedroom, condominiums on the upper ten floors, and also many fine businesses on the lower floors, including the Rococo Theatre , Barrymore's Bar and Grille.
With a direct connection via private skywalk to University Square, your private, reserved parking space is just steps away, protected from inclement weather.
For further information on units available for purchase, please contact us.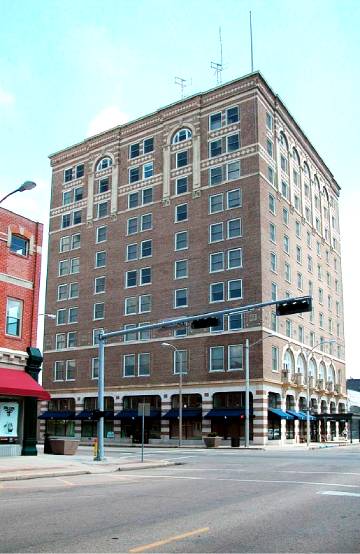 The Yancey
123 North Locust Street
Grand Island's oldest and most prestigious address. This former luxury 11 story hotel is listed on the National Register of Historic Places. Construction of the hotel began in 1917 and was completed in 1923 following a pause in the construction due to material shortages and economic stress following World War I. Completed and furnished at a cost of $300,000 it was leased to William Yancey by Banker's Realty Trust. The Yancey Hotel, with it's Grand Ballroom, continental dining and Governor's Suite, was "the" center of entertainment, society and business in central Nebraska for decades. Following closure in 1982, the building was purchased and completely renovated by The Arter Group in 1984 and, over a two year period, we completely renovated the building with total replacement of all mechanical, electrical and interior construction in accordance with historical guidelines.
Several prominent commercial businesses anchor the lower levels including Equitable Bank and KGIN Television. The 57 residential condominiums located on the top 8 floors include 12 spacious two bedroom units, and 45 one bedroom condos, with eleven different floor plans decorated in traditional oak woodwork and cabinetry.
Several of the condos located on the third floor enjoy curved French doors opening to the outdoors, restored to the original design, and taller ceilings. In addition, the ballroom known as the Gold Room on 3rd floor was used to create "The Commons", as a special place for family gatherings, or just playing cards, for the enjoyment of all the residents. We even found the original chandeliers, now restored to their full grandeur, with new crystals form Europe. Several top floor units also have the unique curved window designs. Just wait till you see the view!
Convenient, secure parking is available in the adjacent enclosed parking facility in addition to free outdoor parking in the adjacent city ramp.
Contact our resident manager at 308-381-7242 for information on available residential or office rentals, or our main office for sales information.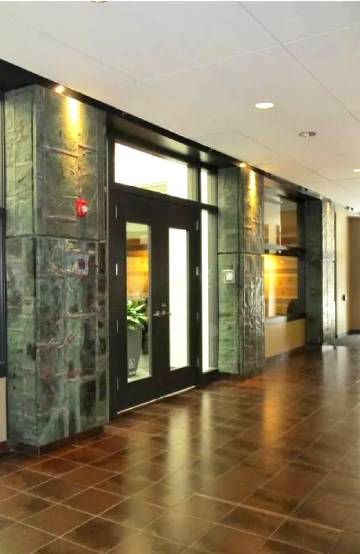 Lincoln Flats
1314 O Street
Outstanding upscale Lincoln Flats Downtown Condominium Building features controlled access with entry and community room. Reserved parking via walkway. Six Pella windows overlook Lincoln's southern view and the Capital. Large open living room with fireplace, spacious kitchen with bar seating open to the living area. The basement community room can be reserved by the owner for parties, holidays and events at no additional cost.
The Arter Group prides itself on creating developments which make the world a better place to live for all income groups. Our company history is founded on the development of affordable housing opportunities for both families and the elderly .
The majority of the housing developments designed, developed or constructed by our company over the past 29 years are operated by local housing agencies throughout the midwest.  States include Nebraska, Kansas, Iowa, Colorado and Missouri.
We specialize in the development of housing utilizing private/public partnerships made possible with creative use of resources such as:
Low income housing tax credits
HUD Section 8 rent subsidies
HOME funding
Low interest loans
Housing for Seniors
The Arter Group has an extensive history in providing housing opportunities to low income and market rate seniors, disabled and handicapped residents. Our expertise reaches beyond financially assisted and independent living and includes experienced, professional consulting and feasibility services in service enriched housing such as licensed residential care.
Affordable housing projects currently under our management include:
Lincoln
New Heights. In cooperation with the Lincoln Medical Education Foundation, and the Lincoln Housing Authority, this property was developed with the goal of developing resident self-sufficiency. Providing residents with assisted rents and extensive supportive services such as daycare, and skill building in areas like job training, parenting, budgeting and even cooking, New Heights received the Blue Ribbon Best Practices National Award from the U.S. Department of Housing and Urban Development for innovation and creative use of public/private partnerships in developing this project. 
Huntington Park. Housing for seniors and disabled. Centrally located near the East Campus of UNL at 41st and Huntington Streets, this 42 unit property includes game and card rooms, a generously sized community space with kitchen equipment and a centralized laundry. Residents and their guests occasionally enjoy playing a game of 8 ball on the pool table or singing along with the old fashioned, fully restored player piano. The two story central atrium is the focal point of Holiday Decorations and daily interaction among neighbors.
Designed, developed and constructed by The Arter Group, Huntington Park offers Section 8 rental assistance for qualified applicants administered directly with H.U.D. by our courteous and professional staff, which means you can apply for assistance directly through our company.
Beatrice
Timberidge Townhomes.   Located in the 1500 to 1800 block of East Scott Street near the YMCA and the new water park, this 32 unit town home project features high efficiency electric heat pumps, kitchen appliances, washer/dryer hookups and  private garages.  These two story, 2 and 3 bedroom town homes, are available at market rent or with  H.U.D. Section 8 rental assistance for qualified low income applicants administered directly by our courteous, professional staff.  One level, accessible, 2 bedroom units are also available.